Intent, Implementation and Impact
The intent of our curriculum
Our intent is to develop confident, successful learners who are resilient, responsible young citizens, always demonstrating our school values of Respect, Empathy, Aspirations, Courage and Honesty. The school's intent is to provide all our pupils with a broad and rich curriculum, founded on a clear knowledge base which places the National Curriculum objectives in a local and cultural context for Wildmoor Heath School. We set out to secure this knowledge base by the development of core, progressive skills which allow learners to develop a lifelong 'toolkit of skills' during their years at Wildmoor Heath School and be thoroughly prepared for the transition to secondary school. Wildmoor Heath learners will value the importance of each subject, understand clearly what they are learning and can discuss their own next steps to progress their individual learning.
---
The implementation of our curriculum
Our curriculum is a whole planned learning experience underpinned by a set of foundation values and clear objectives. We have determined five curriculum drivers, which are highly relevant to the children of this school, both as citizens of the local community and of the global village. These drivers are:
Opportunities
Communication
Community
Environment
Well-being
Creativity
In all our teaching and learning we follow the Primary National Primary Curriculum of Study, and teach specific lessons in each of the following subjects: Reading, Writing, Mathematics, Science, History, Geography, Music, French, Physical Education, Personal, Social and Health Education, Computing, Religious Education, Art and Design Technology. In each subject, we deliver planned lessons following the National Curriculum, supported by skills progression ladders to ensure that pupils are gaining both the knowledge content and the skills as they move through their primary phase of education. Reading and writing are core skills which are taught across the curriculum at every opportunity. To personalise the learning to our school, we plan our themes for each term around the 6 curriculum drivers for Wildmoor Heath. In this way, we are confident that all our young learners are well-equipped with the knowledge and skills they will require as they progress on to secondary school.
The model below demonstrates how our curriculum is structured: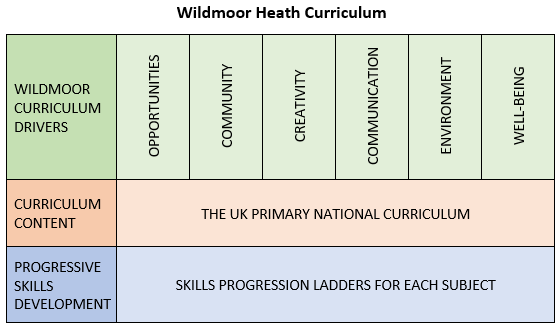 With the curriculum drivers in mind, we seek to ensure that children are given every opportunity to develop an understanding and appreciation of the wider world, the arts, sports, culture and nature. Our pupils learn about and experience a wealth of cultural, artistic and adventurous activities, which are an important part of our curriculum and nurture their Spiritual, Moral, Social and Cultural Development.
On each class page you can find:
The curriculum overview for the academic year
The thematic curriculum map for each term
The current timetable
---
The impact of our curriculum
We assessed the impact of our curriculum in a variety of ways, enlisting external validation from our partner learning trust schools and their leaders to support our assessment. We follow an annual improvement cycle which allows us to assess attainment and progress trends from qualitative and quantitative measures and to seek the opinions of pupils and parents. In this way, we can assess the progress pupils are making towards the knowledge and skills objectives cities we have set. Leaders and governors monitor the quality of teaching in subject lessons, the quality of pupils' work, pupils' engagement levels as well as national attainment data.
We know we are successful with our curriculum intent and implementation if the following impact measures are reflected in our school's results and wider community work:
Exemplary pupil behaviour, attitudes and attendance;
Positive impact across the school community, including pupil liaison with the wider community;
Engaged, enthusiastic young learners who can remember and discuss their learning with others;
Learners who make healthy life choices, know their rights, respect each others' diversity and seek to protect the natural environment;
Wildmoor learners who make successful transitions to secondary school (and come back to share their journey with us).
If you would like further information about our curriculum please contact our school secretary, Mrs Attfield, on 1344 772034 or email secretary@wildmoorheath.org.uk